If you are an AutoCAD™ power user and you wanna be more productive then this place is custom tailored for you - CAD Freak!
Improving work performance will increase your productivity and efficiency and by doing that, lower your total costs!
Below described Add-ins are used to fully automate and extend capabilities of full version AutoCAD™. These Add-ins will improve your work performance, increase your accuracy and with that lower the costs of end product.
Block Manager
L
Changes various Block properties (static or dynamic) in single or multiple Layouts. This tool can change all or some occurrences off a desired Block in all or some Layouts and Model space. After each selection or filtering, option to further filter your selection is available.
This tool is alpha and omega if you are working with Blocks - it brings your drawing process faster to the end. With this manager every change in drawing, big or small, in one or multiple Layouts, is a matter of only a second or two...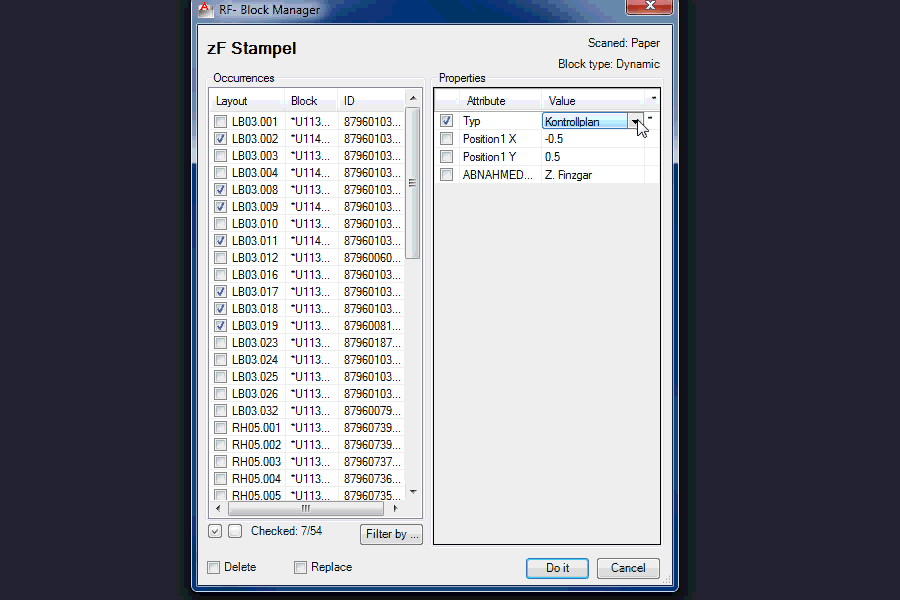 Info: Click on image to (re)play animation!
What can Block Manager do for you:
Change property of dynamic block or simply change attribute text in static block
Change can be made in specific layout or all layouts (include model space) - all from one window
Filter block occurrences till you get the one you want
Delete specific block(s)
Replace specific blocks with a different block (replace block A with block B) through out the model/layouts
etc...
Check Dimensions
L
Checks for potential dimension errors. This tool easily finds all those little mistakes that getting away in production drawings which then raises end Project cost. Perfect companion for Drafter. Checks drafters work and saves production costs...
For example, it checks:
Overlapping dimensions: dimension line is over another dimension line
Null length dimensions: dimension line is null length
Dimension not on object: dimension line points are not positioned on object (not there or not perfectly on object...)
Dimension without base-point: dimension without points on object(s)
etc...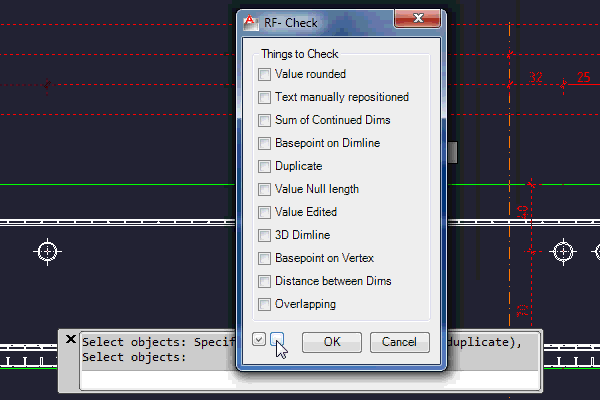 Info: Click on image to (re)play animation!
Check Entities
M
Checks for potential drawing errors with entities (lines, polylines, arcs...). Similar to Check dimensions tool, but for entities. Perfect companion for every drafter. Checks drafters work and saves Production costs...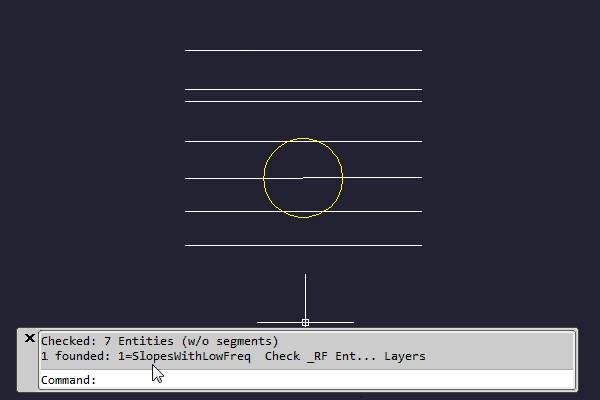 Info: Click on image to (re)play animation!
Base point for numbers
S
Adds Base-point to text if text represents a number. For every text selected (multiple objects selection enabled) it draws a Point at Base-point if Text is a Number representation. Oftly used in terrain geometry elevations, surveying, creating contours from survey data...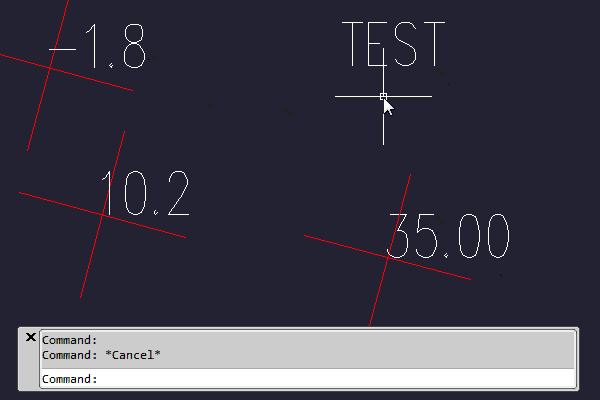 Info: Click on image to (re)play animation!
Compare drawings
L
Compares all entities in two drawings and returns differences between them. Useful if you receive a corrected drawing and you need to find differences to the original drawing. When you receive a drawing with "small" change this tool enables you to precisely find that change.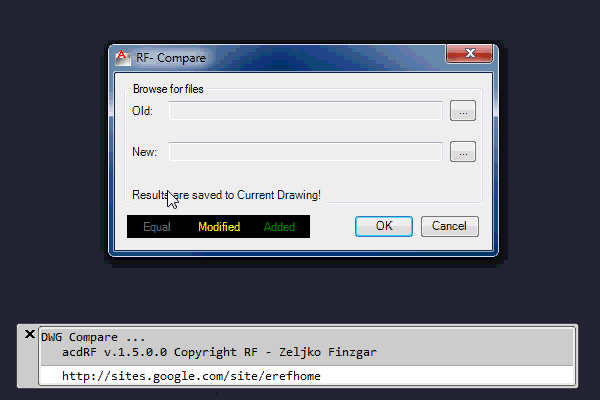 Info: Click on image to (re)play animation!
Find
M
Quick Find and zoom. It gives you a very fast way of searching through whole drawing (Model and Layouts) for given search object.
After it finds searched object, it centers on it with appropriate zoom. This is faster than standard AutoCAD™ 'Find' command and as bonus to this tool: it searches also through all Layouts!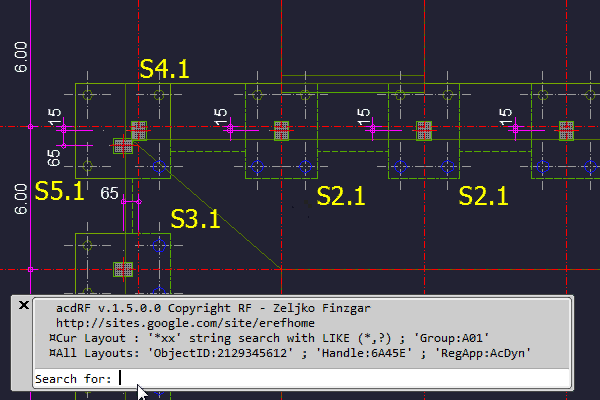 Info: Click on image to (re)play animation!
Info
S
Shows some basic info about currently opened drawing.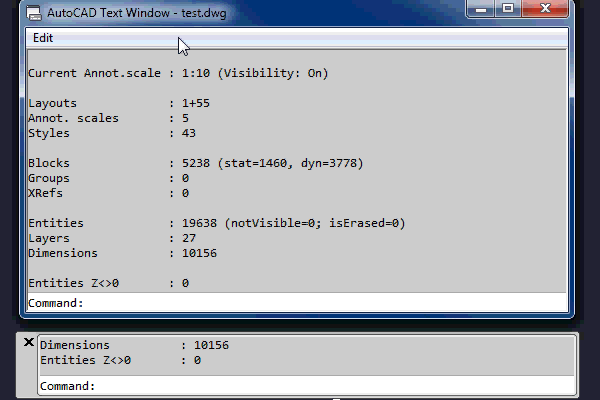 Info: Click on image to (re)play animation!
Layers off
S
Switches Off all Layers except currently active Layer. Sometimes is just useful to work only with active layer by turning all others off with one simple click...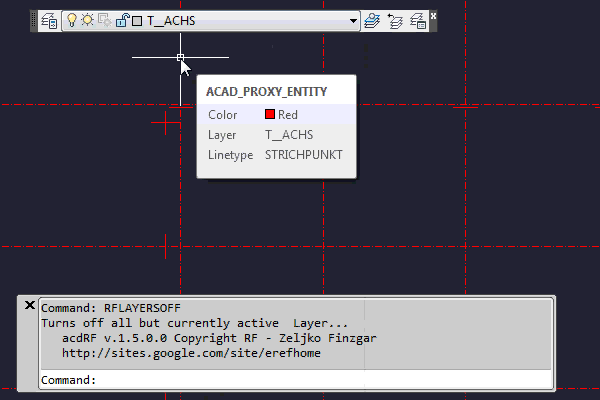 Info: Click on image to (re)play animation!
Layout Manager
L
Shows all Layouts in alphabetic order in a separate fully customizable Panel. It acts as all other 'standard' panels in AutoCAD™. Aside alphabetic order of Layouts and superb overview, secondary purpose is to switching between Layouts by double clicking one Layout. It also shows some basic info about Layouts... Very useful tool to manage multiple Layouts - especially if you have them many as I tend to do...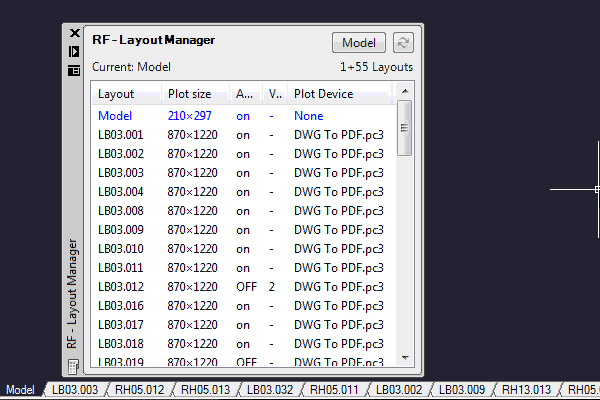 Info: Click on image to (re)play animation!
What can Layout Manager do:
Alphabetically shows all layouts (vertically!)
Optionally shows all layouts in their original order
Enables you to switch directly to layout by double clicking it
Switch between last two used layouts with one click
Shows basic layout details like: name, plot paper size, annotation on/off, viewport count if available and plot device
Shows attributes and parameters from repetitive Blocks through Layouts (titles, stamps...) - one place to preview it all!
Clear all & Repair
M
Cleans all purgeable entities and tries to find and repair errors associated with the rest of entities in drawing. It can help in repairing your drawing and it deletes all unused Entities which results in smaller file and smoother drawing. It does not affect anything drawn and as extra bonus: it can repair some errors in .dwg database file... It's doing far better job then AutoCAD™ standard 'Purge' tool and it comes with bonuses like Repair...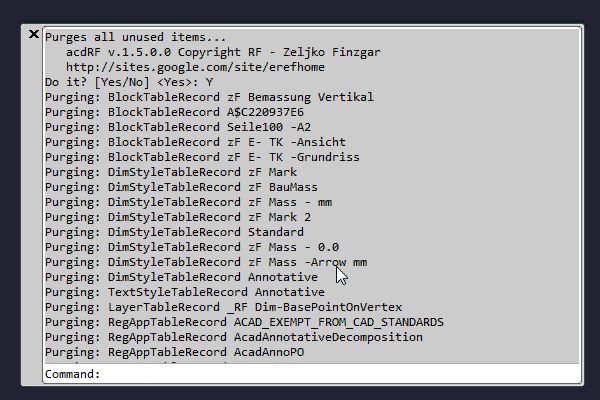 Info: Click on image to (re)play animation!
Center of Gravity 2D & 3D
M
Calculates Center-Of-Gravity Point for 3D Solids and 2D entities like Regions, Polylines and Splines. When a Gravity Point is found it marks it with a Point and shows you the Coordinates and Area or Volume of all selected object(s). It can calculate multiple objects at once (multiple objects selection enabled). A simple and small tool which is a must have in Drafters portfolio...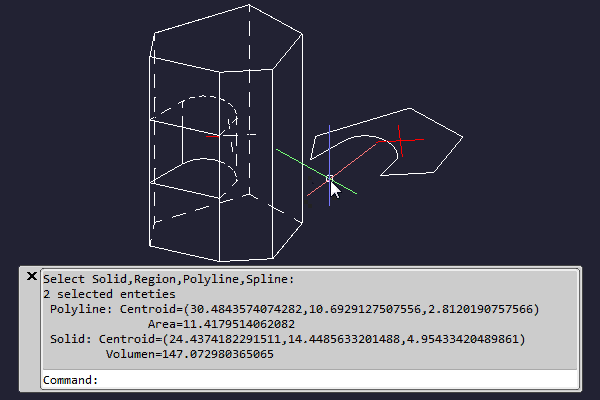 Info: Click on image to (re)play animation!
Automate
L
Automatically sets the right Layer, Color, Linetype, etc... Fewer clicks to do the same job - faster!
When you start a command, Automate will try to change one or more of following properties:
On specific command change a Layer
On specific command change a Color
On specific command change a LineType
On specific command change a LineWeight
After the command ends, Automate returns all properties to previous state.
On first run you need to populate all commands that you wish to control and for every command you need to populate at least one property that would you like to get changed when command becomes active.
For example if you draw with LINES layer and you need to do some dimension lines in DIM layer, Automate can switch to DIM layer when you click a command DIMLINEAR and immediately after finishing it, return layer to your previous layer, LINES...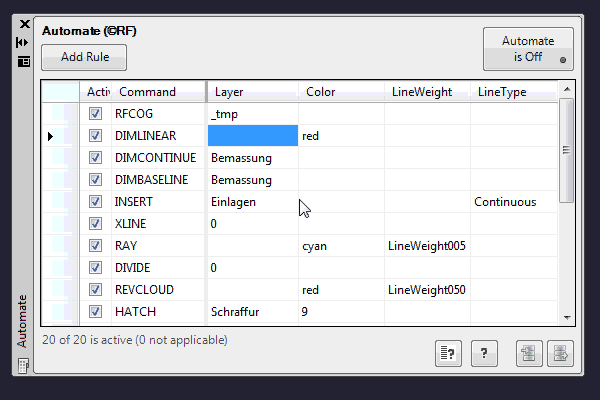 Info: Click on image to (re)play animation!
Notes
M
Write your notes, comments or ideas inside a drawing dwg file. The most practical way of maintaining Notes for your self or team.
Easy to transfer - Only one single dwg file - your drawing. No extra external data to transfer with. Notes are saved inside a dwg file.
Note can be added, removed, edited, visually highlighted, repositioned...
Every single note can have a reference to one place in drawing. Reference to layout or to specific point in Model-space - enabled fast switching to that reference place.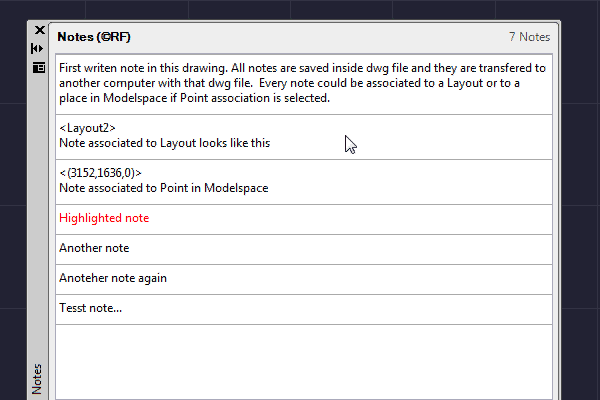 Info: Click on image to (re)play animation!
Summary
| | |
| --- | --- |
| Language | English |
| Status | Finished |
| Technology | DesktopAutoCAD Add-ins.NET |
| Requirements | Windows XP or newerAutoCAD™ 2009 or newer.NET Framework 3.5 or newer |
| License | Shareware |
Go to Download page...
Above described Add-ins are NOT affiliated with or sponsored by the Autodesk™.